NanodinK
PHOTONIC DIGITAL-INK FOR CLASSROOMS
OUR BIG IDEA
NANODINK project aims to equip every classroom with an interactive digital display. This will allow students all over the globe to fully benefit from digital and interactive learning. Over 40'000'000 classrooms worldwide are not yet equipped to enable this, which represent a total available market of EUR 100'000'000'000.
The challenge
A lot of effort has been put into digital-learning. However, these efforts have not successfully been translated into shared classroom environments. This is because the required large interactive touchscreen displays are prohibitively expensive. Infrared, Resistive, and Capacitive touchscreen technologies are quite mature and work adequately for smartphones, tablets, and desktop screens. However, it rapidly becomes cost-prohibitive at large scales, in particular for screen sizes > 70". This issue is amplified by slow response times when drawing and writing on the screen.
THE SOLUTION
NANODINK technology is an invisible and passive nanolayer that is applied to a glass substrate, typically the glass of a large video screen, typically 85" video screens. When combined with an optical pen, it allows that surface to exhibit "touch-like" behavior with unique enhanced features as:
Scalable to any video screen size
Write and draw at natural hand-speed
Reduce considerable production cost
Enable bezel-free interactive video screens
Eliminate the use of Indium
INTERACTIVE LARGE VIDEO SCREEN FOR CLASSROOMS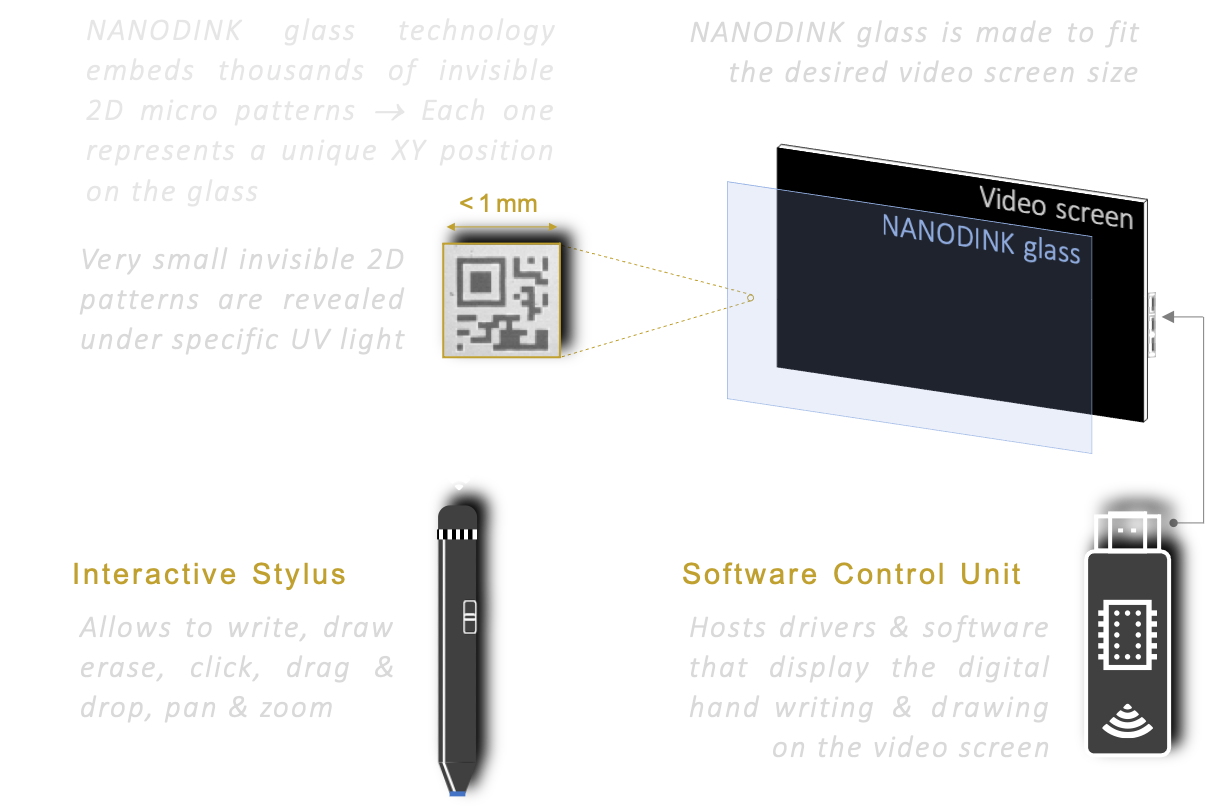 NATURAL HAND-SPEED WRITING NANODINK technology enables you to write and draw at natural hand-speed. Our pen response time is in the order of few milliseconds (< 5 ms) → A first in the digital whiteboard industry! NANODINK technology is made to fit any digital screen geometry and size.  Our designed process allows to produce large NANODINK glass at very competitive production cost → Ideal for screen size of ≥ 85"!
BEZEL-FREE interactive WHITEBOARD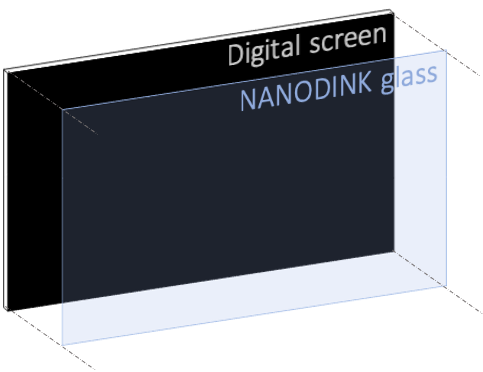 NANODINK glass is passive and fully activated with electromagnetic light. therefore, no power supply, electrical wiring, sensors, connectors or control circuitry is needed → Ideal for bezel-free large digital screens !
NANODINK technology is 100% free of Indium and Rare-Earth elements. We use abundant, safe and non-toxic raw materials to produce the NANODINK glass → Recyclable as domestic glass !